Description
Open the book. Get lost inside.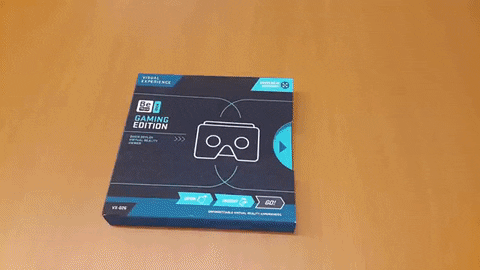 No assembly required at all.
Open the book.
Snap the special QR code.
Insert your phone inside BeThere Book: Gaming Edition.
Get lost inside!
---
The first book that will put you inside VR games world.
Here's to all the gamers.
We have provided one special QR code inside BeThere Book: Gaming Edition.
This special QR code covers various game genres, such as FPS,
simulation, horror, sport, and more.
And, you know what's best about it?
You don't just play it, you get lost inside it.
---
 Works with your phone like no other.
Use an Android, an iPhone, or a Windows phone?
That's perfect!
'Cause it works with BeThere Book: Gaming Edition.
The screen size is up to six inches.
---
New games each week.
We all need a friend to recommend us new games.
Well, that's what BeThere Book: Gaming Edition does for you:
recommending new games each week, for your virtual journey.
---
One book, unlimited experiences.
Playing games isn't the only thing you can do with BeThere Book: Gaming Edition.
We also provide two additional QR codes.
The first QR code is a direct access to general entertainment and VR news
on our daily blog, BeThere EveryDay.
The second QR code is a direct access to the latest YouTube 360 videos.
Enjoy them all with BeThere Book.
---
The lenses that take you inside.
After months of testing,
we apply BiConvex Lenses 37mm x 45mm, made of Acrylic,
to the virtual reality viewer inside BeThere Book.
This means you will enjoy an epic virtual journey in high-quality motion.**
---
The design that naturally gets you.
BeThere Book: Gaming Edition has been designed with ergonomic in mind.
Once you bring it home, you'll understand almost everything:
the direct screen touch, the phone's placement, the QR codes, and everything.
---
 Bring everywhere, impress everyone.
As light and small as a compact disc,
you can keep BeThere Book: Gaming Edition with you all the time,
save and bring it everywhere.
And, when you bring it everywhere, your friends may say,
"Dude, what's that?"
And, they're trying it. And, they can't stop smiling.
And, they're totally impressed, like,
"Man, how could you find this book?"
Don't tell them.
---
 Another reason to keep you in the mood.
The most immersive challenging you'll ever have when you're feeling stuck and bored.
You'll end up smiling.
---
 Your request, our concern.
What kind of game do you like to play?
Let us know on our Facebook or Twitter.
Can't wait to bring you there.
---
So, are you ready to get lost inside?
div class="brandingPlugBox">
Business and Organizations